ORDER ONLINE OR CALL TOLL FREE 1-866-583-8776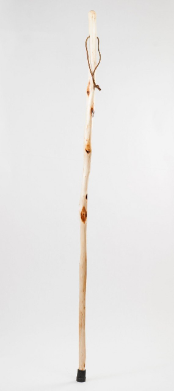 Click to enlarge image(s)
Diamond Willow is a northern wood that offers several unique characteristics making it virtually irresistible for your average walking stick aficionado. Please note that the Free Form Diamond Willow tends to have a lot of character with its bends and curves.
The wood gets its name from the diamond-shaped segments of alternating dark and light colors within the wood itself (as opposed to merely the bark). As a result of this natural phenomenon, Diamond Willow is highly prized by woodworkers -- and stick makers.
When you buy one of these walking sticks, you are buying a piece of handcrafted Americana that is perfect for the casual walker or serious hiker in your life. Additionally, the Diamond Willow Walking Stick makes an ideal gift for virtually anyone.
This staff is 41 inches tall and comes with a standard rubber ferrule for a firm, secure grip on virtually any surface. Like all of our handcrafted products, the Free Form Diamond Willow Walking Stick is made in the USA by our skilled craftsmen using the highest quality materials and time-tested methods.
| | |
| --- | --- |
| Solid Wood | Made in USA |
| Shaft Bends and Curves | One-of-a-kind look |
| | |
| --- | --- |
| Alternating Dark and Light Colors Within the Wood | Unique, Classy Looking |
| Standard Rubber Ferrule | For A Firm , Secure Grip |